Damaco d.o.o.
has been established in 2005 as a technical management shipping company with its mission to provide high quality management services.
Today with almost 15 years of experience in crewing and ship management, managing and operating various types of vessels and yachts we would be happy to manage and protect your assets in the safest and most professional way.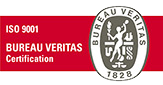 Organized under the International Quality System ISO 9001:2015 as well as MLC 2006 and audited by Bureau Veritas we guarantee our clients the highest crew and ship management standards in the international maritime industry.